The UK's Loan Statistics – How many people seek a loan?
9th April 2018
How many people in the UK have actually taken out a loan? If you think you're alone in borrowing money, you're not. Find out all the statistics below.
If you think you're alone when you're looking to borrow money, you are not. Thousands of people all over the UK are seeking all kinds of loans, to finance their lives. Be it guarantor loans or mortgages, the number of people looking to take out a loan has risen rapidly over the years. With more and more people looking for a loan, it's become the new norm to borrow money.
According to a report from the Bank of England, published in June 2018, both consumer credit and mortgage lending remained unchanged in their growth between 2017 and 2018. You can see the full report on Money and Credit, through the link provided.
To show you how normal borrowing money has become, we've compiled some loan statistics to prove it. We've found statistics from 2017-2018, about mortgages, car financing, payday loans and more. Borrowing money doesn't have to be a big deal. There's always been a stigma surrounding loans, but now, since so many people borrow money, there shouldn't be. Whether you have good or bad credit, loans are being used for all kinds of things, all across the UK. So, without further ado, here's our blog post on loan stats.
Loan Stats
Throughout 2017 and part of 2018, more and more people took out loans. We're going to look at the exact demographic of different loan borrowers, to get a better idea of exactly who is seeking a loan. We'll be looking at payday loans, car finance, student loans and mortgages too. And of course, we'll be including guarantor loans too.
Payday Loans
You may or may not have heard of payday loans, but for those that haven't, we'll explain a bit about them. These kinds of loans are unsecured loans for smaller amounts, usually between £100 – £1,000. However, payday loans have a significantly higher interest rate than most other loans, with an APR sometimes as high as 1000% or more. Whilst these loans carry a lower interest rate if paid off quickly, the costs arise when repayments are missed or prolonged.
We've sourced our stats on payday loans from Finder. The findings stated that through 2017-2018 the average loan size for applicants was around £260, and the single most common amount borrowed is £100. Typical payday loan customers, every 3 in 4, took out more than one loan a year with the average number of loans for repeat customers was 6. Finder also found the key demographic for payday loan customers.
They found that they were, on average, between the ages of 25 and 30, were single and mostly employed or unemployed but seeking work. The stats also show that the payday loan applicants were usually on a low income, under £1,500 coming in to the household per month. Further data shows that those who took out a payday loan had an unforeseen rise in expenses and outgoings.
Car Finance
Taking out a loan to finance a car has become more and more common, with some even leasing cars over a set term. Instead of buying a car outright out of your own pocket, the more favourable option has become car financing – borrowing money to purchase a car. Car finance can be done through multiple means, such as leasing, hire purchase, personal contract purchase or the use of a personal loan to purchase a car.
Between 2011-2016 there has been over 100% increase in car financing, as reported by the Guardian, and the increase is set to increase through 2018 as well. Over £30billion in 2016, doubled from 2011. This alone shows that car financing is on the rise, and people are looking for a different way to land a car without paying outright for one. The article also reported that new PCP (personal contract purchase) cars have taken 86% of the market.
So, car financing has become a great part of the auto purchasing market. More and more people are turning to car financing as a lending option.
Student Loans
For most people, going to university is an expensive time, not made easier by the staggeringly high costs of university fees. However, the government fund your time at university, both for studying and maintenance. These loans are different as they're offered by the government and have a low interest rate on repayment. There are different conditions to repaying a student loan too. The Guardian reports that student lending has doubled since 2012, to total over £100billion. Typically, those who can apply for student financing have to meet certain criteria, including age, nationality and previous higher education qualifications. Normally, the demographic of university student finance applicants are between the ages of 18-25, however, there are mature students who qualify for loans too.
Mortgages
When looking to buy a house, pretty much everyone uses a mortgage in order to finance the purchase. Simply, you put down a deposit of around 10-15% of the house price, and then dependent on your credit score, you'll qualify for a mortgage. There are around 11.1 million mortgages in the UK, according to data from Finder.
The average first time buyer in the UK is around 30 years old, with an average annual income of over £40,000. Mortgages, by nature, are long term loans for large amounts (enough to buy a house). Year on year, mortgage rates vary, however, they're usually on the lower end of the scale and depend on the mortgage provider. According to Finder, mortgages rates at the end of Feb 2018, were around 2.63% on average. House prices have continued to rise over the years and have risen by around 4.5% in the last year alone.
Check out our infographic below for the stats!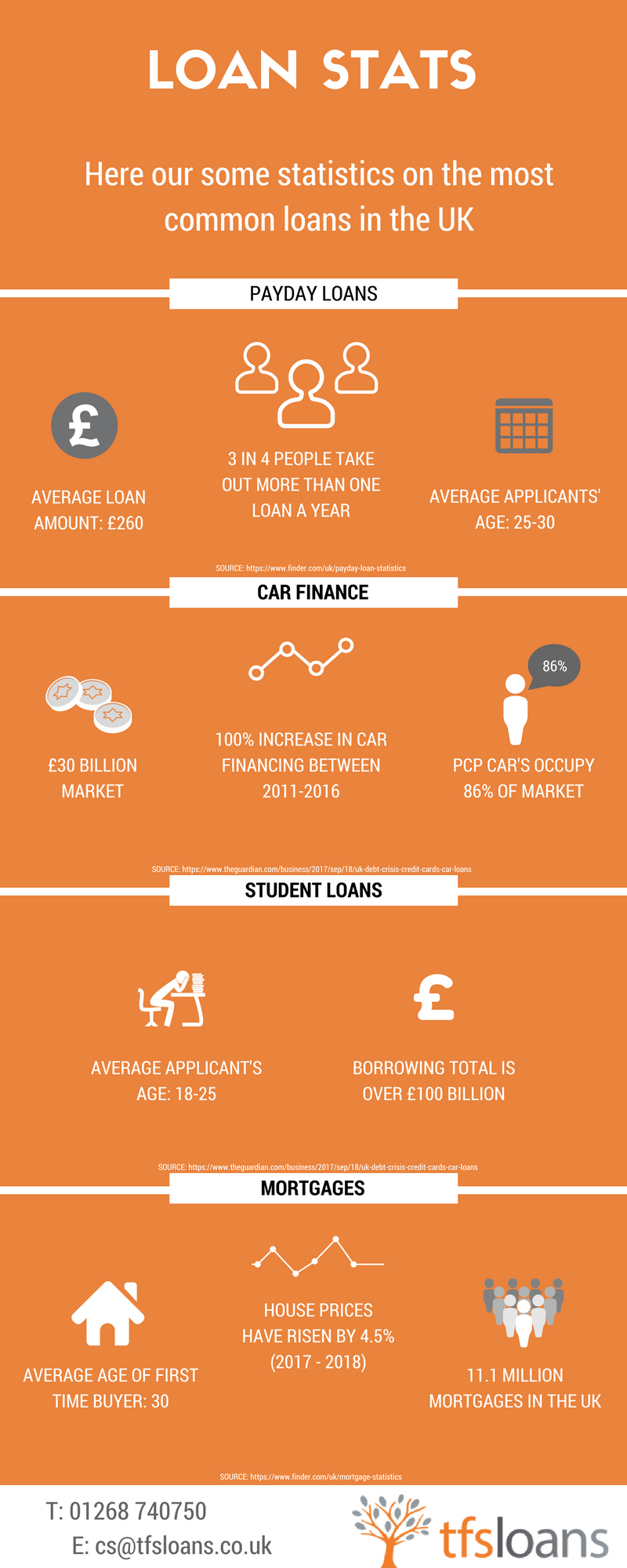 Guarantor Loans
We have compiled our own personal data to provide a better understanding of how many people actually sort out a guarantor loan (all data is anonymised). And guess what? It's more common than you think… Over 150,000 people in the UK have a guarantor loan. The average amount borrowed amongst all our applicants was £4,894, over an average loan term of 46 months. Our data shows that the average age of applicants was 36, with the oldest being 74 and the youngest at 20 years old.
Customers used their loans for many different purposes, including debt consolidation, wedding loans, car financing and even for engagement rings. We had approved applicants from all over the country, ranging from Essex to North Yorkshire and more!
And that's just our own data! There are many other companies who provide guarantor loans. at slightly higher rates than ours, but they still have applicants for their loans. So, it's not uncommon to take out a guarantor loan – especially if you have bad credit.
Those who are having difficulty securing themselves a loan, when they have bad credit, are choosing to use guarantor loans. With a guarantor loan from TFS, you can borrow amounts from anywhere between £1,000 to £15,000, making them an ideal alternative to payday loans. A loan from TFS works differently to other types of loans above, as it's leant through a trust basis. When you apply for any other loan, your credit is checked (except for payday loans) to see what kind of borrower you are and whether your loan will be approved. Your credit rating is your financial footprint, it's a score culminated of all the loans, credit cards and other finances you've borrowed. It's how most lenders assess you as a borrower.
However, with a guarantor loan, you have a guarantor to support your application. They sign to agree that should you be unable to make any repayments on your loan your guarantor will cover it for you. However, at TFS, we only contact guarantors as a last resort.
A guarantor loan can be used for pretty much anything, as long as it's legal. Many of our customers us them as wedding loans, for car finance and as self-employed loans too (for business). Guarantor loans are usually leant over 1 to 5 years, at a representative APR of 44.9%.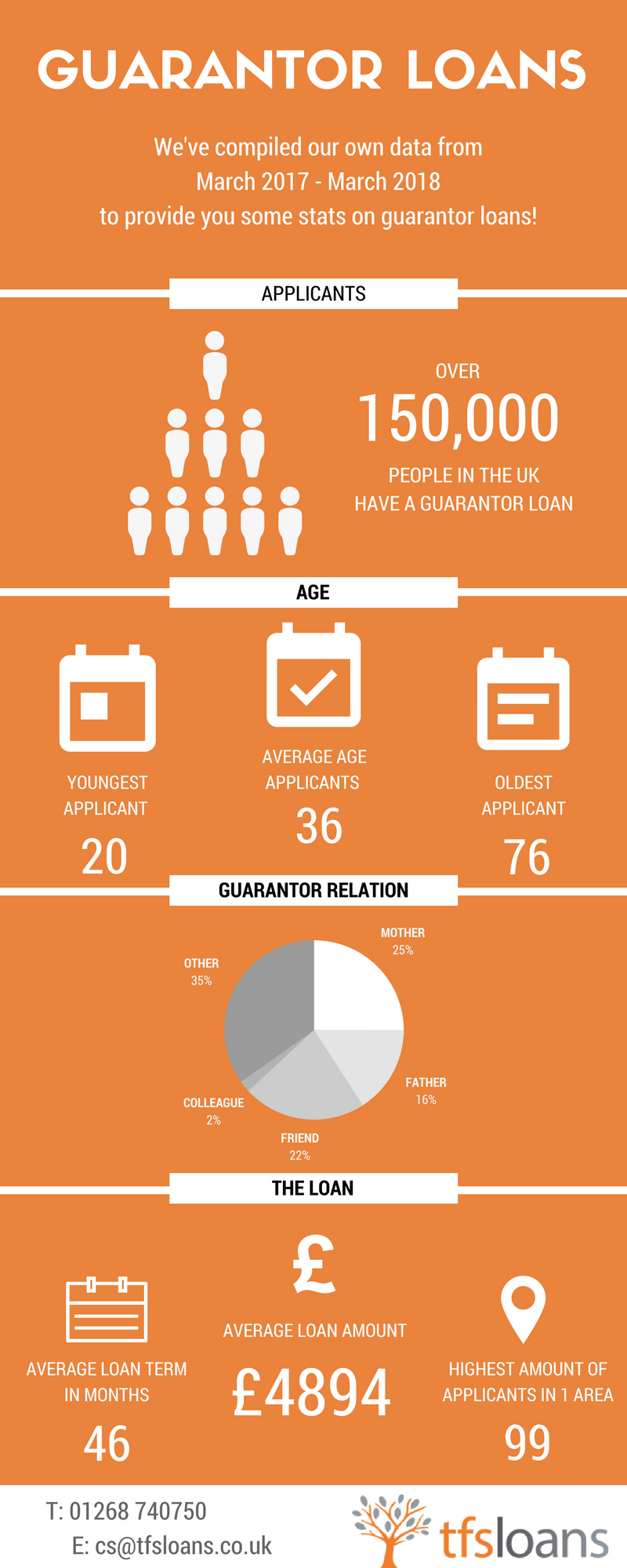 Avoiding Debt
As with any loan, you should only take it out if you can absolutely afford it. Taking out a loan you cannot afford to repay can cause you serious money problems. Payday loans, if left unpaid, can build up to a staggeringly high amount, due to their large APRs. Car finance can be difficult to manage, so it's ideal to find a car with monthly payments you can afford. Student Loans are only typically repayable after you earn over a certain amount, and the repayments are so minimal each month, you barely notice them. They're usually taken out of your wage and do not have to be paid manually. As for mortgages, the risks of failing to make repayments on it can be huge. Your house could be repossessed if you fail to make mortgage repayments, so it's important to stay on top of your outgoings. In regard to guarantor loans, our advice is to take out an amount you know you can afford, as you'll be able to make the repayments.
TFS Loans are specialist Guarantor Loan lenders. A Guarantor Loan is a form of loan that requires someone to act as the Borrower's Guarantor. We offer Guarantor Loans from £1,000 to £15,000, over 1 to 5 years.
Apply for a TFS Guarantor Loan using the button below:
or