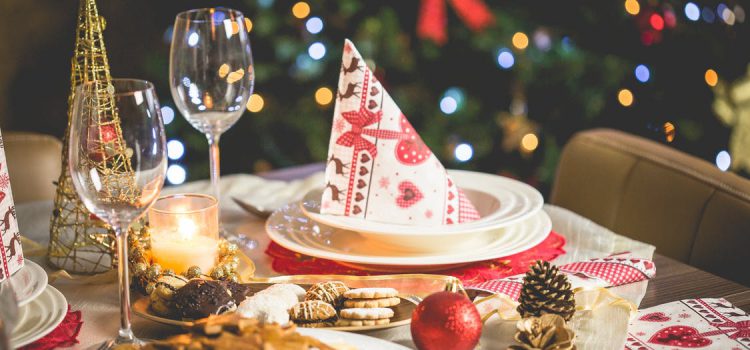 Bringing The Cost of Christmas Dinner Down
10th December 2019

Christmas should be a fun time of the year, but every year we are faced with the usual stresses that come with the big day, most notably buying presents, doing things with the kids and making sure the dinner goes without a hitch.
Many of us place unrealistic expectations on ourselves to buy the perfect present, or cook the perfect dinner, but it needn't be that way.
In recent blogs, we have been giving out out some ideas on how to keep the general cost of Christmas down and when it comes to Christmas dinner, there are a few rules you can follow in order to further save money and also a few tips to keep the stress levels low too! Yes, we are a month away from the big day, but planning starts early!
Don't be a perfectionist and don't sweat the small things!
So you're cooking for 10 people, maybe including someone new that you want to impress and you're already scratching your head, working out the timings and the dreaded realisation hits home that you're already on to a near impossible task to get this all done.
Ask yourself… is it really worth doing the home made pigs in blankets, stuffing and roasted chestnuts?!
Keep things simple. To you, you may think that you are likely to impress with some fancy new recipe that you're trying out for the first time on Christmas Day ('why', we ask?!), but to your guests, they just want good honest food served simple and tasty.
Prue Leith, star judge from The Great British Bake Off, was quoted last year as saying that her Christmas dinner secret is frozen vegetables and that we should not be a snob when it comes to such things… and she is right! But this doesn't just apply to frozen veg; it is more of a statement that you shouldn't work yourself into the ground trying to achieve perfection, as all you are likely to do is over complicate things, make yourself disorganised and flustered. Come the time for cooking and serving, this WILL be a recipe for disaster.
Ask yourself, what is best… a multitude of fancy recipes and dishes executed badly, or a smaller traditional spread all cooked to perfection?
"When it comes to the Christmas vegetables, don't be a snob"

– Prue Leith
Don't overspend just because it's Christmas.
There is a tendency to buy fancy names and fancy products because it's Christmas. The truth is, most of what you see marked up as speciality Christmas food usually does not offer much value at all. Buy cheap where you can and buy in stages – you don't need to do your entire Christmas Dinner shop in 1 go, so spread it out and grab the value where and when you can.
Also, look for offers. The co-op were in the news recently for their initiative for selling many items of food passed their best before date for a nominal price of 10p. Now, we wouldn't suggest you look to buy fresh produce and run the risk of having below par food, but picking up tinned and preserved items and frozen items is a sure way to cut huge costs and maintain quality.
Plan ahead…
An idea that may seem counterintuitive at first is to actually buy a bigger turkey than you originally planned to. Given that you could be feeding more people than usual on the big day, there's usually a tendency to overdo it and run the risk of having a lot of waste, but, if you plan ahead you can look to buy a bigger turkey than needed and have this in mind for snacks, lunches and meals for the days between Christmas and New Year which can ultimately save you money overall.
TFS Loans are specialist Guarantor Loan lenders. We offer Guarantor Loans from £1,000 – £15,000 for a range of purposes including large purchases like cars, home improvements, weddings and other events, debt consolidation and for start-up/small businesses.
Apply for a TFS Guarantor Loan using the button below:
or