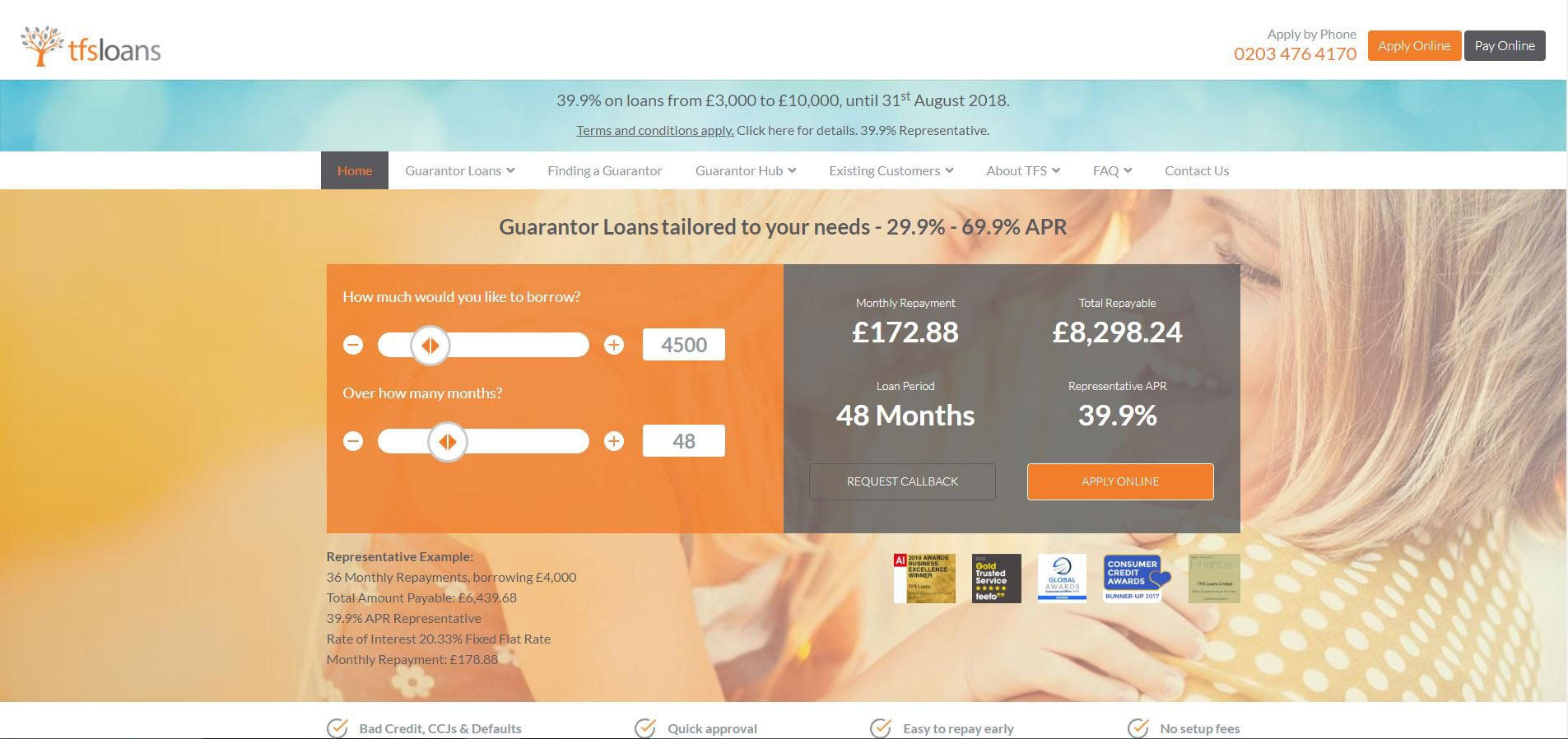 TFS Loans launch new website!
28th August 2018

We are delighted to announce the launch of TFS Loans newly designed website!
Our aim is to create a web experience dedicated to the ease of use for our trusted and valued customers and an improved browsing experience overall.
We hope you enjoy our new design and we think it's going to prove to be a website that our customers can be proud of and one that is easy to navigate, easier to find information and be even more user-friendly than before.
Our new site has all the fantastic customer sections as always including our FAQ section, the existing customers section and also the News and Blogs sections which are home to our Newsletters and Blogs that we know are popular with our customers, especially the Freebies and Discounts one!
Homepage
Our home page and most notably the slider function have been re-engineered for a sleeker and simpler layout, which should be easy enough to navigate through.
Tweak with the sliders to view our rates and in doing so, you will also see our 'Request a Quote' function which allows you to request a quote (or phone call) rather than making a full application.
Existing Customers
Our existing customers page is home to all the information you require to manage your loan, including repayment FAQs, how to top up your loan with us and also our recently launched Payment Portal which makes payments on your account even easier than ever.
Social
Social media buttons on our Blog and Newsletter content remain and have been made sharper and easier to use, meaning you can share your favourite TFS Loans content to your Social pages (Facebook, Twitter, Pinterest, LinkedIn) with just a couple of clicks!
Guarantor Hub
A hugely popular section of our website is our Guarantor Hub. The guarantor loans market still raises many questions with potential customers and this is a section which should provide both yourself and any prospective guarantor with answers to many questions you may have.
As always, our friendly team are always available on 0203 4764170 to discuss a potential application with you and discuss any queries you may have.
We are sure the new website will meet all the expectations of our customers but if you have any feedback on our site and any suggestions, then do please feel free to send us a message! We are always looking to improve our services and believe that after all, our customers offer the very best feedback!
You can get in touch via our 'Contact Us' page, or by emailing cs@tfsloans.co.uk with the subject line 'Website Suggestions'.
Apply for a TFS Guarantor Loan using the button below:
or