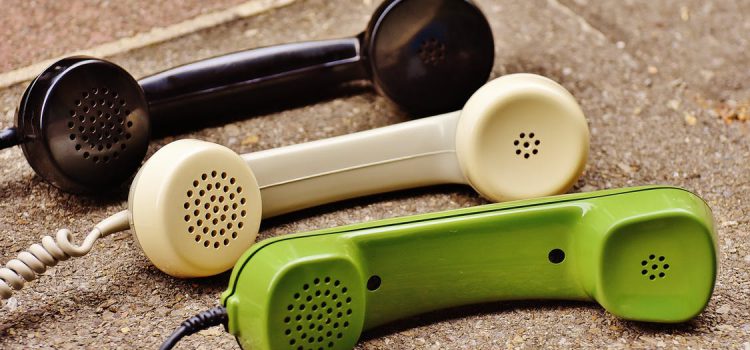 How to stop spam calls and avoid scams?
10th August 2019
Spam calls are a continuous nuisance and it feels like they are on the rise. At best they interrupt us and use up our precious time and at worse they steal our money or personal identity…
One of the more well known ones of recent times, called the Wangiri scam, worked by a fraudster calling a victim's mobile phone number and hanging up after one or two rings. They then bank on the victim returning the call, which gets diverted to a premium rate number and costs a fortune for every minute that the call is connected. Victims are usually placed on hold or listen to pre-recorded messages to keep them on the call as long as possible.
We thought we'd focus this week's blog on how to stop spam calls and restore your confidence when answering incoming calls you don't recognise.
There are usually four types of calls:
Telemarketing Calls – these are calls from legally registered businesses. Usually a sales person will try to sell you something, but it could also be a charity, political organisation or telephone surveyor calling to ask for your opinion on a range of subjects. These types of calls are also referred to as cold-calls.
Legal Robocalls – these are automated telephone calls that deliver recorded messages. Libraries have been known to use these services to tell you that your book is in stock or you have an overdue item. Companies are permitted to use these types of calls for urgent or extremely important updates only. They should not be used for marketing messages.
Illegal Robocalls – Any non-emergency robocall that you have not given written permission to receive is illegal. These calls are scam calls.
Scam calls – These calls aim to steal your money, personal identity or both. They are very dangerous and come in many forms – either with a live person at the other end or a robot.
There are a number of steps you can take to reduce the chance of scam or cold calls.
Don't answer a call from an overseas number unless you recognise it.
Don't call back a missed call from overseas.
You can ask your phone operator to block calls from international numbers or withheld numbers. Some phone companies charge for this service, so please check.
Never reveal your name, address or financial details on a phone call. Ask to call the company back using the official phone number on their website, but even then, ensure that it is indeed a fully registered and regulated company.
If you suspect a scam, don't press any numbers during the call, this could redirect you to a premium-rate number which you will be charged for.
You can ask for your phone number to be excluded from local directories, so it won't appear on the data that companies buy. If you continue to receive calls from these organisations after taking these steps you can refer them to the Information Commissioners Office (ICO).
If you don't want to receive sales calls from a company you can ask the company to remove you from their list. It is worth emailing them too so that you have the request in writing. You can also contact the Telephone Preference Service (TPS) and remove your name and number You can do this by calling 0345 070 0707 or visit: www.tpsonline.org.uk/tps. The TPS won't stop called from scams, market research, or companies where you have 'opted in' to receive calls from companies based abroad. This is a free service.
Remember that since 25th May 2018, the only companies that are allowed to contact you with sales and marketing messages must have gained your explicit consent to do so. If you haven't given this you can report the company to the ICO. Companies are still entitled to call you with information and urgent messages related to products or services you have applied for or taken out.
If you continue to receive cold calls or suspect a scam you should report the issue to a number of organisations:
Action Fraud (0300 123 2040)
Your phone provider and Ofcom (0300 123 3000).
Please note, if you ever receive a call from TFS Loans the number will usually start with 0203 476… and we will only call you if you have an account with us, have made an application at some point recently, or have given us permission to contact you regarding our products.
TFS Loans are specialist Guarantor Loan lenders. A Guarantor Loan is a form of loan that requires someone to act as the Borrower's Guarantor. We offer Guarantor Loans from £1,000 to £15,000, over 1 to 5 years.
Apply for a TFS Guarantor Loan using the button below:
or