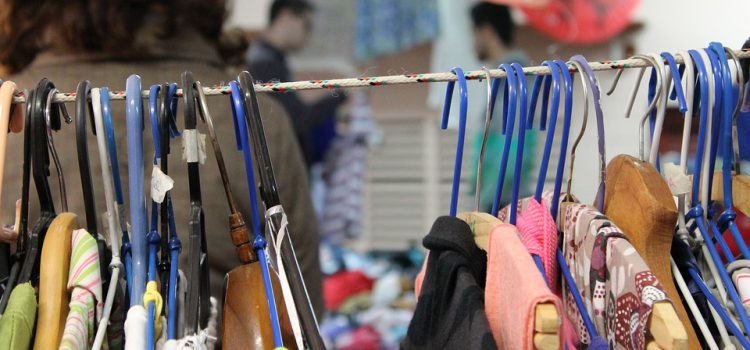 Boot sales and charity shops – how you can style your home, dress for less, or make extra cash and have fun doing it!
7th March 2019
We are always looking for ways to save money here at TFS, whether it's from past blogs on shopping bills, cashback and incentives etc, so this blog is no different and in a similar vein. When it comes to bargains, you will struggle to find better places than folks that are selling seemingly unwanted items. Even if you do not find anything that you are looking for, what if you could pick up items that could actually make you some money?
When it comes to shopping in 2nd hand shops, charity shops or at markets/boot sales, there definitely seems to be a split between those that embrace the idea and those that turn their nose up at buying other people's unwanted 'junk'. Of course, when we say junk, we cannot fail to raise that old adage "one person's trash is another person's treasure"!
What cannot be denied however, is the stark fact that amongst the piles and piles of clothes you may just find that vintage chic 70s dress which is perfect for an event you are attending, or perhaps you've found a first pressing of your favourite band's debut album among the stacks of Des O'Connor and Richard Clayderman LPs!
Sometimes it takes a keen eye to find style, or something that may sit perfectly at home amongst your furniture in your house such as an old cracked vase, brought back to life with a bit of creative TLC, or an old throw which has been turned into a charming sofa cover. It is all subjective at the end of the day, your style is your style and you like what you like, so if you're willing to put in the hours, you can find yourself some absolute gems and pick up things you never even knew you were looking for, sometimes literally for a matter of pennies.
Charity shops are also a perfect place for picking up outfits for fancy dress, for kid's school plays, or even for raw materials to work on and design your own items. Are you considering dressing up as an old man for a party and need a walking stick, pipe and suit jacket? £5 from the charity shop and they are all yours. The possibilities are endless.
As a side note, we would always urge you to just dig in a little more and add a few loose coins to the total when buying in a charity shop. Just a 20p coin here or there, on top of your purchases, really goes a long way.
"One person's trash is another person's treasure"!

On the other side of the coin, if you are interested in picking up items to perhaps upcycle (see our blog on the topic here) and turn into an item bigger than its parts, or perhaps to fix and sell on, or you may have just identified some items that you know are valuable, then take the opportunity to pick them up.
One of the most lucrative things to pick up is old toys and collectables.
Now we don't expect you to pick up an original first edition Corgi Batmobile in an unopened box, or a pristine copy of the 1938 Action Comics #1 (which incidentally sold for $3.2m on eBay!), but some toys and games are really overlooked and can fetch quite a tidy sum of money to the right buyer/collector.
One of our sales team recounted the story of a friend who picked up an old tatty handheld LCD game from under the table of a boot sale for the measly sum of 20p. He saw it was a Nintendo and being a keen lover of retro games and such decided that there was simply no point in not taking the item, so he did.
Just a few hours later, he realised that he'd in fact picked up one of Nintendo's first editions of hand held games and that it was fetching figures on eBay of between £65 and £75!
Old Sky HD boxes are also a hidden possibility. Not all boxes are created equal, but in these times of constant upgrades and switching providers, often newer boxes get thrown away and some of these actually contain Hard Drives as big as 1TB in size. Many of these Sky boxes are being sold at boot sales for as low as £5, or in charity shops for even less. Hard drives vary in quality and price, so not all will be desirable, but you can guarantee that if someone has thrown out such a box containing a large capacity Hard Drive, that this drive itself will fetch you a tidy sum above and beyond what you have paid.
Take a look on eBay, but also on free pages such as Shpock and Gumtree which do not charge commission and take a look at the 'sold' items section of each. You will build up an idea of the types of things that make money and that are highly sought after. 80s retro clothing, original toys (with boxes), vintage electronics – some of these really are going unnoticed on the floors of old recreational parks sitting under pasting tables, or on the dusty shelves of charity shops!
As discussed, we would kindly suggest taking a generous approach to buying items in Charity Shops. If you think you have bought an item that is much higher in value than you have paid, then please consider giving some extra over the counter.
One of our members of staff that has bought and sold 2nd hand items for years takes the approach of donating 15% of any profit directly back to the charity shop where he purchased. It's a great approach that not only gives the shop a sale in the first place, but some extra money on top to really help these great places to continue.
TFS Loans are specialist Guarantor Loan lenders. A Guarantor Loan is a form of loan that requires someone to act as the Borrower's Guarantor. We offer Guarantor Loans from £1,000 to £15,000, over 1 to 5 years. Our representative APR is 44.9%.
Apply for a TFS Guarantor Loan using the button below:
or